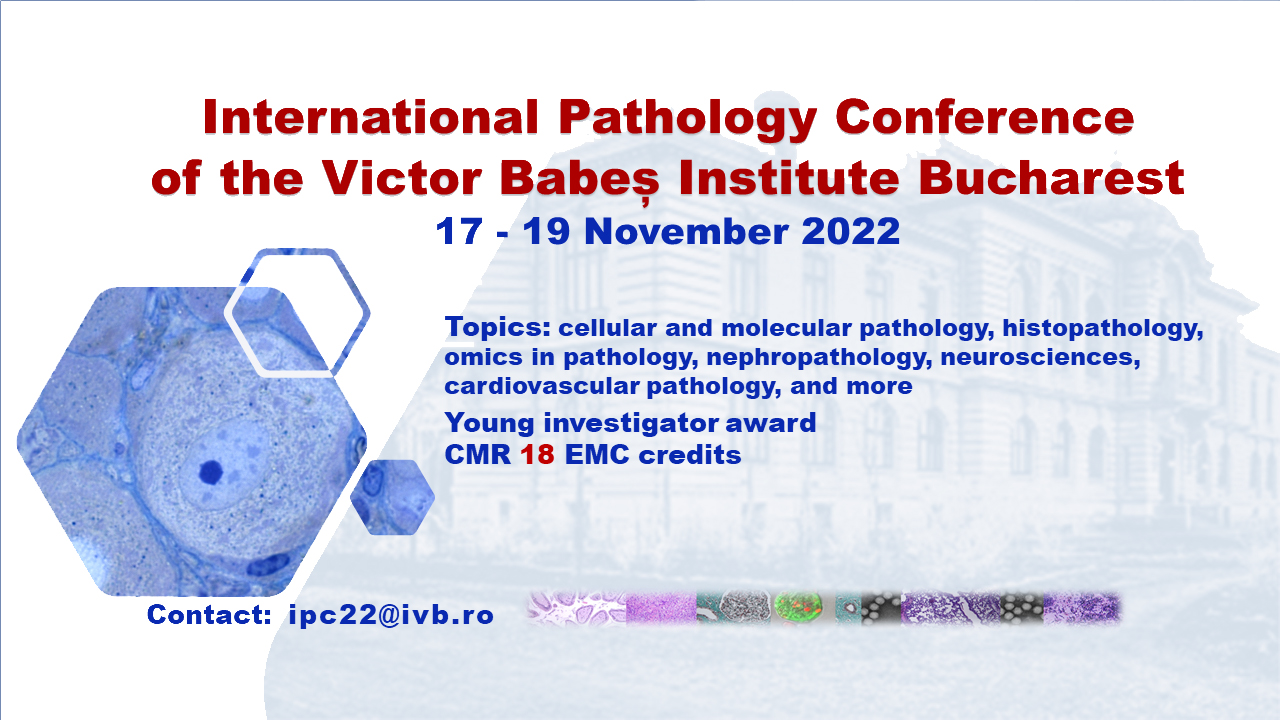 | | |
| --- | --- |
| Alexandru Almășan | Cleveland Clinic & Case Western Reserve University, Cleveland, USA |
| Alexandru Babeș | University of Bucharest, Romania |
| Anita Rauch | Institute of Medical Genetics, Zürich, Switzerland |
| Bogdan O. Popescu | Universitatea de Medicină and Farmacie "Carol Davila" București, România |
| Donato Zipeto | University of Verona, Italy |
| Emil C. Toescu | University of Birmingham, United Kingdom |
| Fabio Demontis | St. Jude Graduate School of Biomedical Sciences, Memphis, USA |
| Giuseppe Bardi | Istituto Italiano di Tecnologia, Genoa, Liguria, Italy |
| Irina Roxana Deleanu | Medical University of Innsbruck, Austria |
| Konstantinos Nikolouzakis | School of Medicine, University of Crete, Heraklion, Greece |
| Liron Pantanowitz | University of Michigan, USA |
| Lucian R. Chirieac | Brigham and Women's Hospital, Harvard Medical School, Boston, USA |
| Lucio Barile | Università della Svizzera Italiana, Lugano, Switzerland |
| Magda Budișteanu | Spitalul Clinic de Psihiatrie, Prof. Dr. Alexandru Obregia, Bucharest, Romania |
| Mihaela Rusu | University Hospital Aachen, Germany |
| Nurhan Özlü | Koç University, Istanbul, Turkey |
| Octavian Bucur | Victor Babeș National Institute of Pathology Bucharest, Romania |
| Rajan Dewar | McLaren Greater Lansing, Michigan State University, USA |
| Sauri Hernandez-Resendiz | National Heart Centre Singapore |
| Shiang (Max) Lim | St. Vincent's Institute Medical Research, Australia |
| Simona Ruță | Universitatea de Medicină and Farmacie "Carol Davila" București, România |
| Vanesa Bijol | School of Medicine at Hofstra/Northwell, New York, USA |
| Xu Yichen | Institute for Molecular Medicine, University of Southern Denmark |
| Yin Hua Zhang | Seoul National University College of Medicine, Korea |
Dragi colegi și prieteni,
Vă invităm și în acest an la Conferința Internațională de Patologie a Institutului "Victor Babeș" 2022 (International Pathology Conference of "Victor Babeș" Institute Bucharest), care va avea loc în perioada 17 – 19 noiembrie 2022, tot în format virtual.
Înregistrarea și participarea la lucrările Conferinței se va face pe site-ul conferinței: https://ipc2022.event-online.ro/
Taxă de înregistrare este de 150 de lei (sunt exceptați lectorii și studenții).
Numărul de credite EMC-CMR va fi anunțat la o dată ulterioară.
Sunt deschise pentru prezentarea lucrărilor dumneavoastră următoarele sesiuni:
– Short communication – Young Pathologists
– Short communication – Biomedical research
– Short communication – Young researcher
– Varia/Posters.
Sunt acceptate doar lucrări originale. Rezumatul trebuie redactat doar în limba engleză și trebuie să cuprindă: titlul, autori, afilierea, obiective, metode, rezultate și concluzii. Numărul maxim de cuvinte 300.
Rezumatele trebuie trimise în format word pe adresa ipc22@ivb.ro, până la 1 noiembrie 2022.
Înscrierea lucrării pentru sesiunea "Short communication – young researcher" trebuie menționată explicit. Aceste lucrări vor fi jurizate iar cea mai bună prezentare originală va fi premiată.
Am atașat programul preliminar al conferinței și sperăm să identificați subiecte de interes pentru dumneavoastră.
Informații suplimentare la adresa de e-mail: ipc22@ivb.ro.
Vă așteptăm,
Mihaela Gherghiceanu, în numele organizatorilor