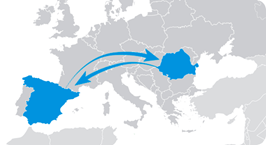 Coordinator:
      Prof. Antonio Cuadrado
      Autonomous University of Madrid
Duration: 2016 -2020
Project web page: http://www.redbrain.ro/en/
COMPETITIVENESS OPERATIONAL PROGRAMME 2014-2020
PRIORITY AXIS 1 – RESEARCH, TECHNOLOGICAL DEVELOPMENT AND INNOVATION (RD&I) TO SUPPORT ECONOMIC COMPETITIVENESS AND BUSINESS DEVELOPMENT
ACTION 1.1.4 Attracting high-level personnel from abroad in order to enhance the RD capacity
The main objective of the REDBRAIN project is to develop and strengthen R&D and innovative competitiveness of "Victor Babes" National Institute of Pathology (IVB) by building new skills and transferring knowledge in order to create a highly competitive scientific team, able to conduct cutting edge research in neurosciences addressing neurodegenerative and neuroinflammatory diseases with a main focus in Alzheimer's disease.
Specific objectives
to implement at IVB new directions of applied research with high potential of innovation in therapeutics of neurodegenerative diseases
to apply redox biology concepts and tools to investigated molecular mechanisms and biomarkers in blood, related to the fingerprint of the transcription factor Nrf2, that underly pathophysiological processes in Alzheimer's diseases, and provide a tool for monitoring disease or therapy;
to use state-of-the-art "multiplex" approaches (genomic and proteomic) for elucidating molecular networks related to oxidative stress and inflammation in the progression of this chronic disease.
to increase international visibility of IVB by publications in highly-ranked journals, hence reinforcing its capability to participate in large scale projects in the frame of Horizon 2020 and other EU or non-EU programmes;

to better connect the fundamental and applied research developed at IVB to international research priorities in neurodegenerative and neuroinflammatory diseases by joining dedicated EU networks;

to increase collaboration with biotechnology / pharmaceutical industry by offering advanced research services for the screening and preclinical investigation of next-generation small molecule drugs;

to valorize through competitive research the state-of-the-art research infrastructure has been recently built at IVB with support from the Sectoral Operational Programme "Increase of Economic Competitiveness" 2007-2013;

to attract brilliant scholars and young scientists and to train them in a highly competitive scientific environment at IVB.
Publications
Pietro Ghezzi, Luciano Floridi, Diana Boraschi, Antonio Cuadrado, Gina Manda, Snezana Levic, Fulvio D'Acquisto, Alice Hamilton, Toby J Athersuch, Liza Selley. Oxidative stress and inflammation induced by environmental and psychological stressors: a biomarker perspective. Antioxidants and Redox Signaling 2017, 28(9):852-872. doi: 10.1089/ars.2017.7147, https://www.liebertpub.com/doi/abs/10.1089/ars.2017.7147?rfr_dat=cr_pub%3Dpubmed&url_ver=Z39.88-2003&rfr_id=ori%3Arid%3Acrossref.org&journalCode=ars
Ana I Rojo, Marta Pajares, Patricia Rada, Angel Nuñez, Alejo J. Nevado-Holgado, Richard Killik, Fred Van Leuven, Elena Ribe, Simon Lovestone, Masayuki Yamamoto and Antonio Cuadrado. NRF2 deficiency replicates transcriptomic changes in Alzheimer's patients and worsens APP and TAU pathology. Redox Biology 2017, 13:444-451. doi: 10.1016/j.redox.2017.07.006. http://www.sciencedirect.com/science/article/pii/S2213231717303993
Cuadrado A, Manda G, Hassan A et al. Transcription factor NRF2 as a therapeutic target for degenerative diseases: a systems medicine approach. Pharmacol Rev 2018, 70(2):348-383. doi: 10.1124/pr.117.014753. http://pharmrev.aspetjournals.org/content/pharmrev/70/2/348.full.pdf
Adva Hadar, Elena Milanesi, Marta Walczak, M Puzianowska-Kuznicka, Jacek Kuźnicki, Alessio Squassina, Paola Niola, Caterina Chillotti, Johannes Attems, Illana Gozes, David Gurwitz. SIRT1, miR-132 and miR-212 link human longevity to Alzheimer's Disease. Scientific Reports 2018,8(1):8465, doi:1038/s41598-018-26547-6. https://www.ncbi.nlm.nih.gov/pmc/articles/PMC5981646/pdf/41598_2018_Article_26547.pdf
Natalia Robledinos-Antón, Raquel Fernández-Ginés, Gina Manda and Antonio Cuadrado. Activators and inhibitors of NRF2: a review of its clinical development. Oxidative Medicine and Cellular Longevity 2019, 2019:9372182. doi: 10.1155/2019/9372182.
https://www.ncbi.nlm.nih.gov/pmc/articles/PMC6664516/
Ansari A, Maffioletti E, Milanesi E, Marizzoni M, Frisoni GB, Blin O, Richardson JC, Bordet R, Forloni G, Gennarelli M, Bocchio-Chiavetto L. PharmaCog Consortium. miR-146a and miR-181a are involved in the progression of mild cognitive impairment to Alzheimer's disease. Neurobiol Aging 2019, 82:102-109. doi: 10.1016/j.neurobiolaging.2019.06.005. 
https://www.sciencedirect.com/science/article/abs/pii/S0197458019301873?via%3Dihub
Gina Manda, Ana I. Rojo, Elena Martínez-Klimova, José Pedraza-Chaverri and Antonio Cuadrado. Nordihydroguaiaretic acid: from herbal medicine to clinical development for cancer and chronic diseases. Frontiers in Pharmacology 2020, section Experimental Pharmacology and Drug Discovery, 11:151. doi: 10.3389/fphar.2020.00151. eCollection 2020.
https://www.ncbi.nlm.nih.gov/pmc/articles/PMC7058590/
Mickael ME, Pajares M, Enache I, Manda G, Cuadrado A. NRF2 drug repurposing using a question-answer artificial intelligence system. 2019 https://www.biorxiv.org/content/10.1101/594622v1.full.pdf
Maffioletti E, Milanesi E, Ansari A, Zanetti O, Galluzzi S, Geroldi C, Gennarelli M, Bocchio-Chiavetto L. miR-146a Plasma Levels Are Not Altered in Alzheimer's Disease but Correlate With Age and Illness Severity. Front Aging Neurosci 2020, 17;11:366. doi: 10.3389/fnagi.2019.00366. eCollection 2019.
https://www.ncbi.nlm.nih.gov/pmc/articles/PMC6978630/
Norwin Kubick, Marta Pajares, Ioana Enache, Gina Manda, Michel-Edwar Mickael. Repurposing Zileuton as a Depression Drug Using an AI and In Vitro Approach. Molecules 2020, 25(9), 2155; https://doi.org/10.3390/molecules25092155.
https://www.mdpi.com/1420-3049/25/9/2155
Antonio Cuadrado, Cristina Benito, José Jiménez-Villegas, Maribel Escoll, Raquel Fernández-Ginés, Angel J. Garcia Yagüe, Diego Lastra, Gina Manda, Marta Pajares, Ana I. Rojo and Albena T. Dinkova-Kostova. Can Activation of NRF2 Be a Strategy against COVID-19?, Trends in Pharmacological Sciences 2020, 41(9): 598–610. DOI: 10.1016/j.tips.2020.07.003.
https://www.ncbi.nlm.nih.gov/pmc/articles/PMC7359808/
Marta Pajares, Ana I. Rojo, Gina Manda, Lisardo Boscá, Antonio Cuadrado. Inflammation in Parkinson's disease: mechanisms and therapeutic implications, Cells 2020, 9(7):1687; https://doi.org/10.3390/cells9071687.
https://www.ncbi.nlm.nih.gov/pmc/articles/PMC7408280/
Lastra Diego, Raquel Fernandez-Gines, Gina Manda, Antonio Cuadrado. Perspectives on the Clinical Development of NRF2-Targeting Drugs. In "Reactive Oxygen Species: Sources, Targets and Therapeutic Implications", Handbook of Experimental Pharmacology, Springer Nature, Schmidt, Harald H.H.W.; Ghezzi, Pietro; Cuadrado, Antonio, Eds. DOI: 10.1007/164_2020_381.
Gina Manda, Antonio Cuadrado. The transcription factor NRF2 shapes the identity of radio-resistant tumor cells. Journal of Cell Identity 2020 (in press).